Laurel Health Care Company
Skilled Nursing, Rehabilitation & Assisted Living
Laurel Health Care Company is a national provider of skilled nursing, rehabilitation, sub-acute and assisted living services dedicated to one simple principle — achieving the highest standards of care and caring. We achieve this goal in partnership with our guests and their families, our associates and the communities we serve.
At The Laurels, caring is more than providing excellent medical and guest services. It's also being a companion, and treating each guest with the utmost dignity, respect and compassion. It's what we call "The Laurel Way of Caring", and it comes from within each one of us.
This web site is designed to help you learn more about our locations, guest services and medical capabilities. For more information about a Laurel Health Care Company facility near you, please visit our Locations Section.
Our Notice of Privacy Practices describes how medical information about you may be used and disclosed and how you can get access to this information. Please review it carefully.
Thank you for visiting our web site.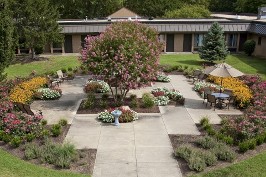 "I am eternally grateful to the entire Laurels of Massillon staff and administration for the excellent care which they provided to my mother. I consider the nurses who care for my mother daily as dear friends who understand her physical, mental and emotional needs so well and respond so rapidly."